Zendesk Integration with Third Party Systems
Zendesk Premier Partner Leafworks is a leading Zendesk integration company that specializes in improving business ROI by creating custom integrations for Zendesk. Our consulting services include QuickStart initial setups, Zendesk integration & automation and Zendesk apps & themes. Contact us today to book your discovery call.
Zendesk is a very popular and trusted customer service and ticketing system. It's used by many companies to manage their support teams, track the status of tickets, and ensure that customers are happy. The Zendesk API gives developers access to the complete set of features in Zendesk Support, enabling us to build custom add-ons. 
Zendesk integrations improve customer service by making it easy to go from one system to another without having to update everything manually. In order to enhance our clients' customer relationship management, we can integrate almost all enterprise infrastructure systems with Zendesk – whether SaaS or On Premise solutions.
There are a few key things to consider when looking for an omnichannel solution. The first is that not all channels are created equal. Phone support, for example, requires a different set of tools and skills than chat support. The second consideration is scalability. As your business grows, your support needs will change. An omnichannel solution must be able to grow with you, adding new channels and features as you need them.
Finally, consider the customer experience. An omnichannel solution should make it easy for customers to get the help they need when & where they need it, be easy to use and provide them with a consistent customer experience across all channels.Integrating channels to end siloed conversations will allow your team to correctly reference the customer's history, giving them the ability to enhance customer satisfaction (csat).
Beyond that, the transparency and centralized data gained from an omnichannel solution allow you to take a bigger picture view of consumer habits. It's imperative that your chosen solution can handle all the channels you need.
As intelligent customer service becomes the new norm, your AI solution must differentiate between customers wanting a quick transfer to a human agent from those wanting to self-manage their issue via Helpdesk FAQ's.
With AI-powered Zendesk integration solutions from Leafworks, you can provide better and more personalized experiences for your customers in any situation – whether they need complex help with an issue or just need to be guided to relevant information in a help or FAQ centre.
Zendesk Custom Chatbot
Powered with Artificial Intelligence (AI), you can build amazing conversational experiences with a customised chatbot for Zendesk. Customisation of a Zendesk chatbot allows for greater flexibility, here are some examples:
Transfer to a customer service agent based on keywords or selection
Other input channels e.g. Facebook messenger, WhatsApp
Content-dip to Zendesk Guide as a suggestion for matching articles
Ticket creation e.g. no agent available; callback request, archiving as bot ticket without interaction of an agent
A customer knowledge base is an accessible customer self-help portal that includes FAQs, self-help articles, tutorials, documentation and references. As the trend towards self-managed support is on the rise, a knowledge base can greatly improve customer satisfaction while lowering call centre operating costs. More brands are beginning to offer a knowledge base as a self-serve customer service library where customers can find answers to their questions without having to talk to a live customer service agent. A knowledge base is vast becoming an essential customer support strategy, especially when you are using a chatbot on your website. Without a knowledge base integrated with your chatbot, it will lack the ability to answer customer questions or be able to differentiate between and guide customers who want self-managed support with those who want to talk to an agent.
By using a Zendesk app integration, you can seamlessly manage all of your customer interactions from one place. You will receive real-time updates on new tickets from CRM and Social Media right into one ticket thread so you'll never miss a beat. Plus, it will be easy for customers to reach out no matter where they are or which app is being used because all customer interactions are cohesively managed via the Zendesk app integration.
This makes for an efficient process for support staff who serve customers remotely or across multiple platforms as they're able to get their work done quickly while remaining engaged with your customers.
As a Zendesk Premier Partner, we're experts in customizing Zendesk apps to fit your company's specific needs. We have experience designing both small-scale programs for individual agents and large systems that are required by Enterprise companies who need access across many different departments within their business.
We develop solutions tailored around what you want out of it — whether this means just adding another tool onto an existing platform without too much trouble; expanding how users interact with information already present on webpages through voice commands while they browse or building full-stack. Learn more.
Enterprise Resource Planning (ERP) is the system of record that captures data from multiple departments across an organization – accounting, manufacturing, supply chain, sales, marketing, and more – to provide a single source of truth for all the data. Some companies like to use data visualisation software such as Tableau or Qlik to see and understand their data.
Zendesk ERP Integration
ERP systems have a crucial role to play in the customer lifecycle, therefore getting data from multiple systems such as accounting and logistics are necessary as they contain key information about customers. Getting that information from the Zendesk account is essential to providing a complete view of the data. Learn more about our ERP Integration Solutions.
Satisfied customers are the lifeblood of any company – they keep coming back and they tell their friends. By integrating customer satisfaction metrics such as CSAT surveys, NPS and customer service data directly into your support process, AI will anticipate whether a customer will be satisfied with the support or not. Integrating csat data from both qualitative and quantitative metrics gives AI the most accurate gauge on how satisfied customers are with their experience and what they need from future interactions. Learn more about how to build a customer-centric organization here.
Zendesk CRM integration
Integrating Zendesk Support with your CRM will greatly increase your ROI by making it easy to track customer history across your entire business.
If you're using MS Dynamics, SAP or Hubspot, for example, you can create a ticket when an issue is reported in Zendesk and have that ticket updated with any changes made in MS Dynamics, SAP or Hubspot, like updates to the account or adding new services.
Learn more by viewing this example of a
Zendesk MS Dynamics Integration
.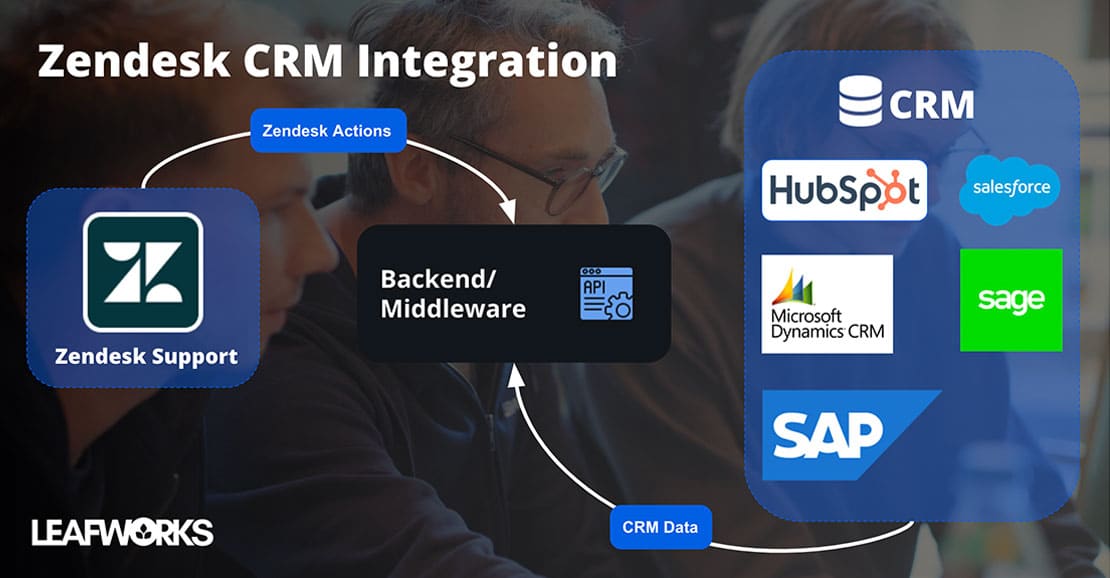 Zendesk Chatbots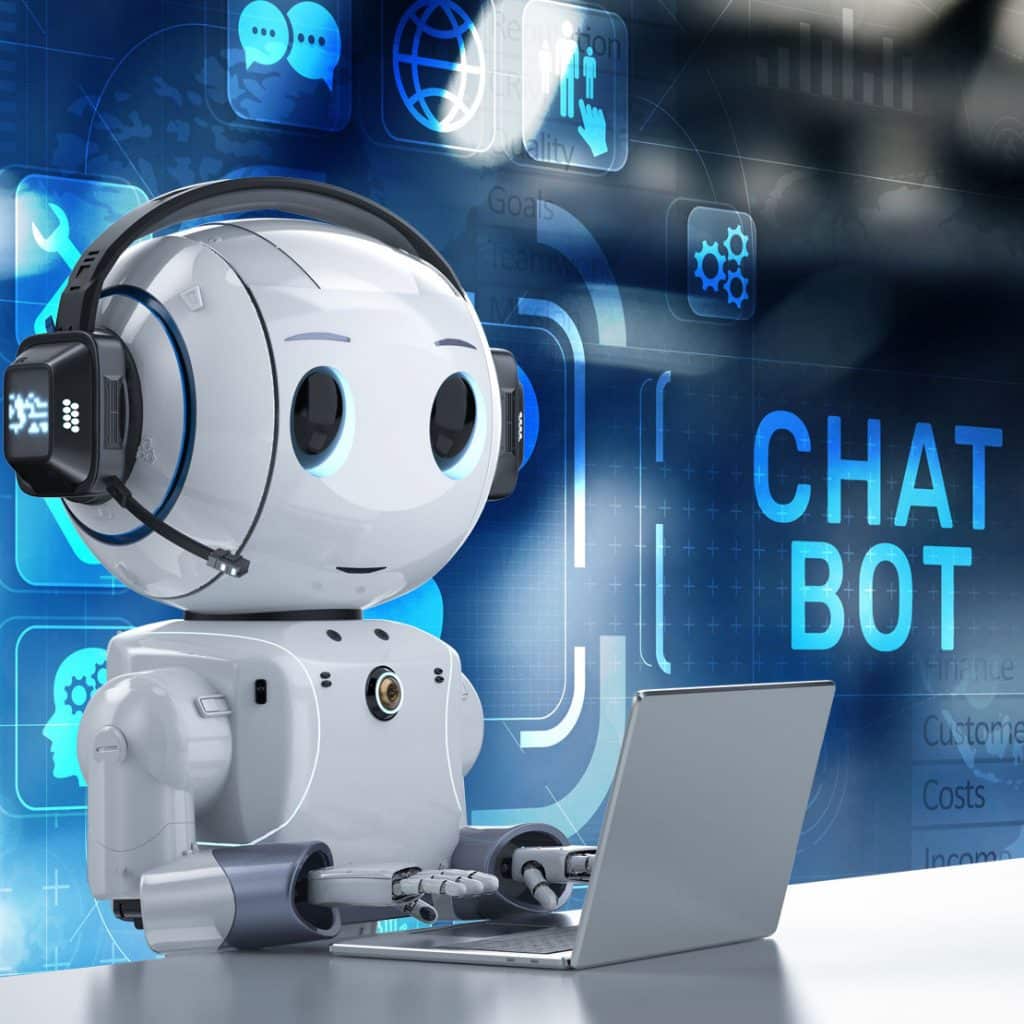 A Zendesk chatbot is an easy way to provide proactive support to your customers without increasing the load on your team.
By allowing users to submit a ticket for common issues with Zendesk's APIs, you can automate things like password reset requests or notifying users of expected wait times.
View an example of a
Zendesk RASA Chatbot Integration
.
Zendesk Ticket Syncing
Zendesk Ticket Escalation
Helpdesk Ticket Integration
Zendesk Workflows
Zendesk Text-to-Invite Links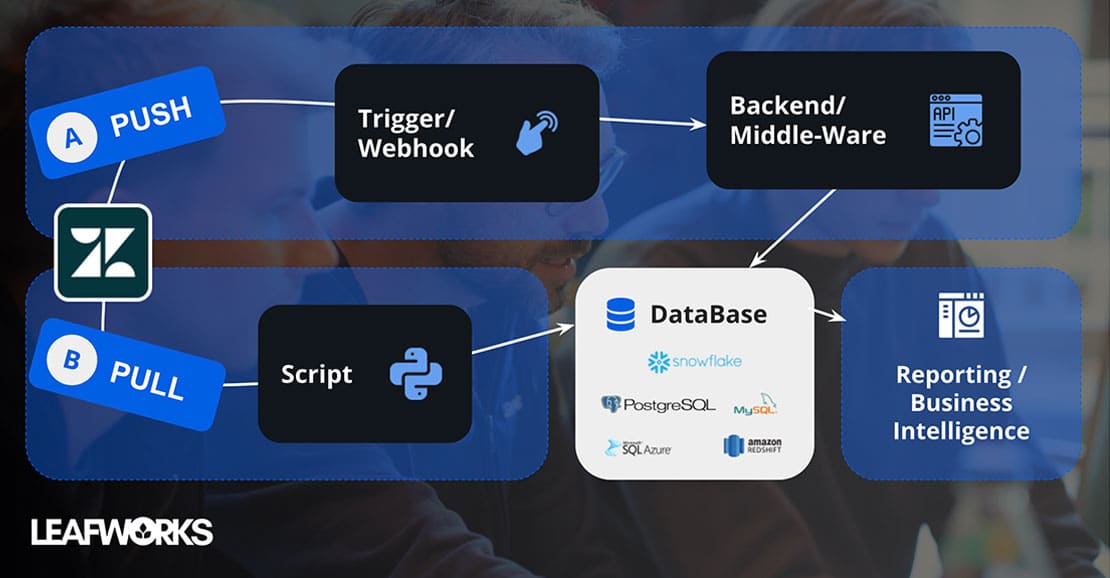 Result-based Zendesk Integration
Another great way to improve customer interactions is by sending results from other tools to Zendesk for easy access. 
You can integrate Google Analytics, CRM software case feeds or even data from another ticketing system, like ServicePro's hosted ticketing solution, to track how your customer service department is performing. Learn how we use Zendesk Sunshine to boost productivity.
Zendesk Ecommerce Integration
When Zendesk is integrated with ecommerce software, it provides an opportunity to improve customer service and track sales funnel data all in one place.
You can provide a more cohesive experience for customers

Reduce the number of steps it takes to track a customer's order

Increase the number of orders and repeat business
Zendesk Sales Lead Integration
Sales leads are the lifeblood of any business. When you can successfully integrate your sales leads with Zendesk, you can improve your customer service and track sales data all in one place. This will help you reduce the number of steps it takes to track a customer's order, as well as increase the number of orders and repeat business.
Zendesk API Integration / Middleware
If you want to integrate with systems which aren't API-enabled yet, we can develop the needed API endpoint for the Zendesk apps, in order to enable the communication with 3rd party systems. The easiest way to automate is often through writing custom integrations yourself, especially if you only need one-time functionality. Zendesk provides an API that allows you to create custom integrations through scripts or your own software.
Our Zendesk AddOns API is enhancing the possibilites of Zendesk. Common UseCases for our product: i.e. parsing content and saving inside Zendesk, ticket routing based on data in your backend systems like CRM/ERP etc.
To extend the automation of Zendesk far beyond the possibilities within Zendesk, we offer our customers to use our existing middleware Knots. The AddOns API processes the following tasks:
Researching content in external systems like CRM & ERP and writing this information to Zendesk

Complex calculations or operations on texts such as extracting customer no., order no., invoice no. from the ticket content

AI-routing, sentiment (NLP) analysis based on ticket content

Here are just a few examples of how the Zendesk API assists businesses with their integration needs:

Offers two-way sync capabilities between Zendesk Support and other applications, services or databases

Keeps support tickets up to date in both systems when making changes in one system

Syncs users in both systems so everyone is on the same page

Offers a central location for the Zendesk agent to find, discuss and resolve customer issues

Simplifies manual work by automating manual processes

Enables developers to build custom add-ons
Many customer support team issues are resolved via integration & automation, allowing more time to spend on customer relationship management rather than focusing on managing software.
Zendesk Support enhancements are a great way for businesses to provide the best customer experience through automation. Leafworks is one of the leading experts in Zendesk, having built integrations that automate things like updating tickets with CRM software such as Salesforce Service Cloud and reducing redundant data entry.
We've built Zendesk solutions for companies both big and small, so we know what businesses are looking for when they choose to enhance their systems. If you'd like to talk about anything at all to do with Zendesk, contact us and we'll be happy to help.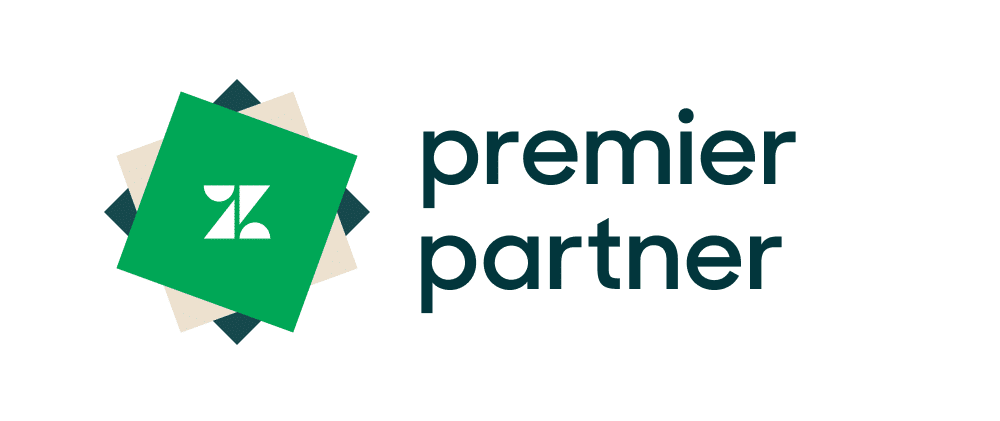 We use Zendesk to realize customer service projects. We undertake the customizing, automations, triggers, custom-app development and the integrations into backend systems. Contact us today to book your discovery call.