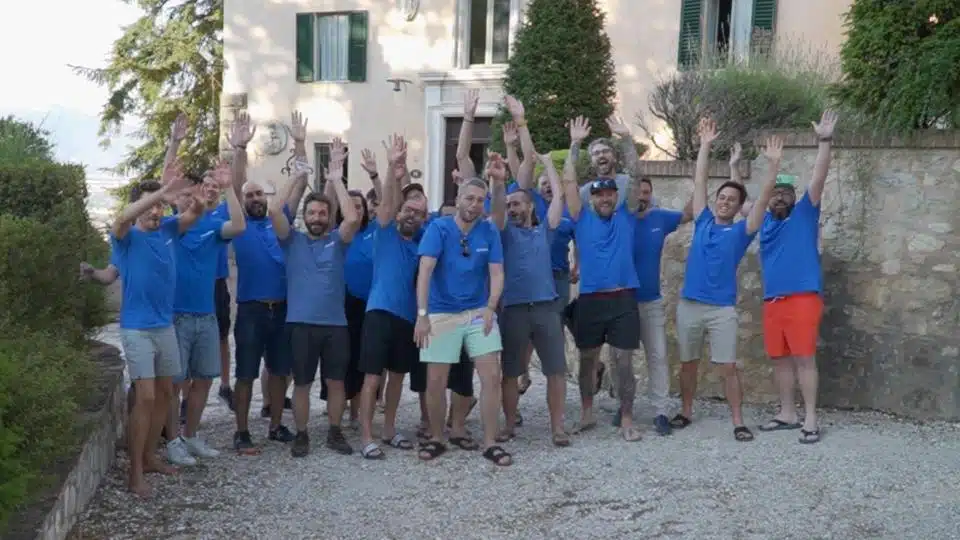 As the headline suggests, the Leafworks-Team met for a workation in Italy. And it was about time to for a big Leafworks gathering. This year our team has grown a lot and many of us had only seen each other through the screen until then. Since we work 100% remotely, we think it's very important to meet in person every now and then. This gives us all the opportunity to get to know each other better, learn more about our colleagues, exchange ideas privately and not just talk about work.
Once again, it worked out great and we had a lot of fun. It's always amazing how much energy and productivity is released during these teambuildings. In a very short time, we were able to achieve top results for us as a company, but also for our customers. Read for yourself and let yourself be inspired by the Italian Dolce Vita.
Andiamo Leafworker –
Teamwork for better Customer Service Solutions

Lösungen

 

Finally July: summer, sun and holiday feelings. Many would now like to be somewhere in Italy: in a beautiful, historic villa with a pool and a beautiful mountain panorama. "Why not" we thought to ourselves and invited the Leafworks team to Italy for a joint workation. More precisely: to beautiful Spoleto, located in the mountains of Umbria.

We rented the historic house for two weeks between olive trees and vineyards. Each leafworker was able to organize his time on site himself. Whether the entire two weeks or only at the core time of a few days. 

One might not expect it, but soon the beautiful Residenza D'Epoca was bursting at the seams because so many leafworkers accepted the invitation. With foresight, rooms in a nearby hotel had already been reserved.

The days were used for working, exchanging ideas and networking. Of course, with occasional cooling off in the pool, which is sorely needed at almost 40 degrees. We spent the evenings cooking together, going out to eat or just drinking a few pool beers with the best Italian delivery service pizza.
Leafworks Hackathon – Zendesk Apps in Only a few Hours
In addition to insights from our founders Georg and Robert about the development of Leafworks so far and the vision for the future, there were great discussions, mini-projects and new ideas for future challenges. One focus was our new product and brand 'Knots'. An integration and automation platform for customer service.
In just a few minutes, a third-party system can be connected to a ticketing tool such as Zendesk, to start optimizing and automating processes. This increases customer service quickly and efficiently. Be it automatic ticket parsing to enrich tickets with backend information or extracting text (also handwritten) from PDF attachments in e-mails, to name just two examples.
Combine third-party systems such as custom backends, CRM and ERP systems quickly and easily. Sounds interesting? Check out the Knots-Plattform
At the Leafworks hackathon, we set ourselves the goal of working on challenges and ideas in two to three hours and realizing them to the extent that they offer real added value. Then we got to work in small groups. And what shall we say? We are still really impressed what is possible in such a short time and with a common focus.
1. Gruppen Admin Seite – Fast Database Management
There are customers who need to be registered as users for our Helpdesk API and for our Knots products. If something needs to be customized, maintained or created for these users, it needs a colleague with technical knowledge, since one needs direct access to the database and has to perform these tasks via SQL or HeidiSQL (database management tool).
It is a very bad practice to adjust anything directly inside a database, as it is error-prone and very dangerous for the system. It may be very difficult to roll back if you have made a critical error. Also, you may be bottlenecked if you need a technical consultant or developer to make even simple changes to a user.
Solution
Usually, there is an "admin tool" with a user interface that allows you to manage your user base and all related settings. Therefore, a proof-of-concept (POC) for such a tool should be created during the hackathon. Thanks to the input of a few colleagues, a simple solution was worked out using AdminJS.
After some difficulties with the documentation, the solution was working. ORM models of the database were generated, which were then used by 'AdminJs'. These models can then be used directly in the user interface.
2. Guide Short-Cut Slack App
This Slack-App allows you to search for articles within your Help Center using the Help Center API and simplifying communication between Slack channels. The application provides the title, a summary of the article, and a direct link for more information in the Help Center.
3. Plattform for Licence-Reselling
Leafworks also sells Zendesk licenses as a reseller. To manage all contracts, licenses and invoices, we decided to create an (initial) internal platform that will later be used for (external) customers as well.
The goal is to manage all new contracts and to give the possibility to edit the contract (reduce or cancel license contract) and to do all process steps in the future. 
During the hackathon the basic work was done and the database structure was created. It was filled with the first data sets and a first frontend design with an overview of all contracts and the possibility to add or reduce licenses via some buttons.
4. QR-Code/NFC in Customer Service
Machine and device operators are faced with the question of how to receive error and status messages as quickly as possible in order to rectify problems on the devices promptly and with as little effort as possible. The aim is to keep negative effects for customers as low as possible and to avoid their dissatisfaction.
Solution
QR codes or NFC tags on machines to report errors:
By simply scanning a QR code or NFC tag on the device, an error or status message is triggered and a ticket (e.g. in Zendesk) is created

Either a simple message without further information (e.g. machine must be refilled; lantern defective) or forwarding to a landing page for additional information (e.g. type of error: machine does not respond; keypad defective; blue screen on machine, etc.)

The unique QR code or NFC tag automatically captures the location and device ID

In addition, further information can be accessed by connecting an ERP system (serial number; manual; etc.)
The support agents immediately have all relevant information clearly displayed in the ticket without having to manually jump to a third-party system and can immediately focus on solving the problem. For example, notifying another employee who can fix the problem on site.
Use-Case Examples:
Ticket machine operators: Report defective ticket machines

Banks: reporting defective ATMs

Operators of snack machines: Report an error or an out of stock article

Cities and municipalities: Reporting defective street lighting

Car sharing providers: report errors on the vehicle

….
Hackathons and Custom-Zendesk Apps
Such hackathons have become an integral part of our everyday business. We often use these when building our Zendesk apps. This gives us the opportunity to focus on a problem together and work directly on a practical solution. You can see the results in the Zendesk Marketplace. Our Zendesk apps for customer service offer solutions to specific problems and close gaps in the standard Zendesk functionality. These Zendesk apps can be customized. We also program special custom apps that are tailored to the customer's use case.
We are happy to help if you have any questions, or if you need a custom app as well! Contact us for a free consultation:
Less 'Work" – More "Cation"
After the work was done, it was time for relaxation and free time. Some used the rest of the weekend to relax by the pool or go on small excursions in groups. But one official program item was still missing: "The Perfect Leafworks Dinner" on Saturday evening.
Teams were drawn and assigned either an appetizer, main course or dessert. Of course the dinner theme was "Italia". After the teams decided on a dish, it was then time to shop and prepare. And as we are used to from the Leafworkers from other projects, two appetizers, two main courses and two desserts were on the table as planned at 9 p.m. sharp. The results were "delizioso" and dinner the next day was also taken care of because of the quantity we prepared! But the evening had only just begun and ended after some refreshing cold drinks, at about 5 o'clock at dawn with a joint, spontaneous singing performance of 'Norah Jones – Sunrise' :D.
Like this fun evening, however, everything must come to an end. After the weekend it was time for many of us to pack our bags and head back home. Unanimous feedback on our workation: It was great! When is the next one?
Many thanks to all who were there and made it once again unforgettable. Especially to Julia Willner for the planning, who has once again outdone herself and has more than fulfilled the (not so easy) requirements of the trip. Mille Grazie! 
Want to be part of the next Leafworks Workation? Then take a look at our career page! 🙂