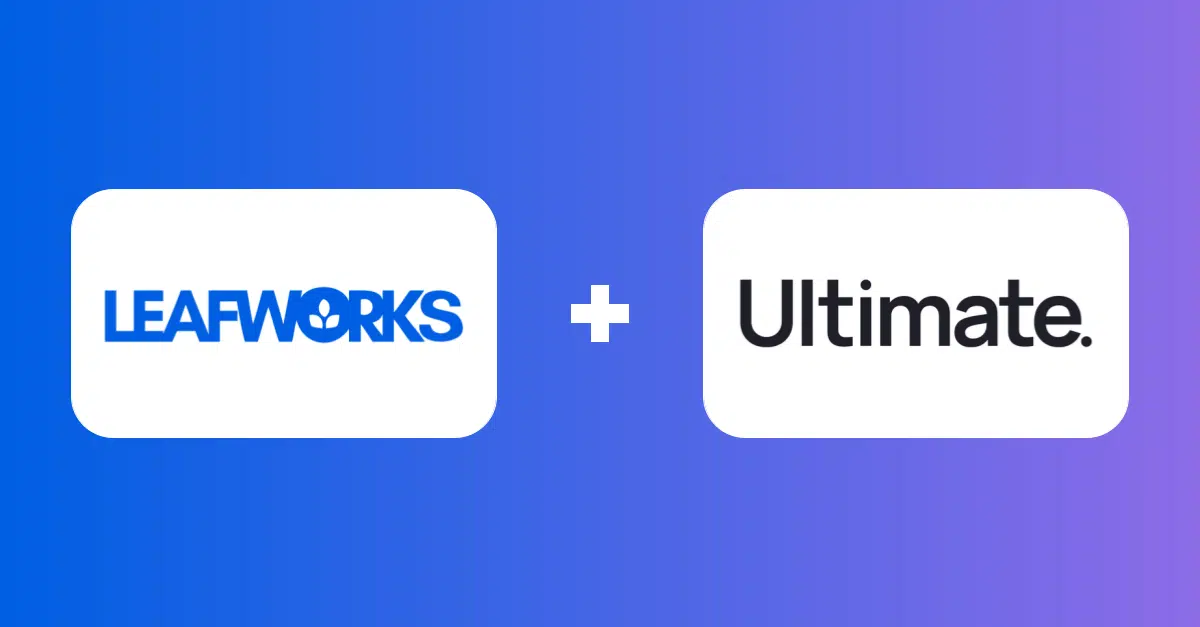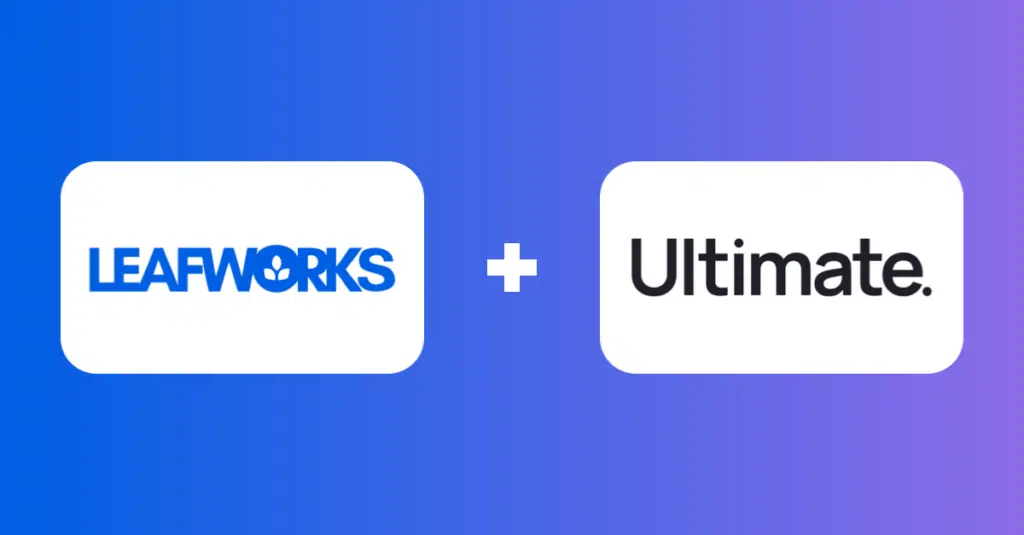 In our free, digital event, "Multichannel Communication and Chatbot Automation", our experts from Leafworks and Ultimate explained how you can have continuous, asynchronous conversations across multiple channels to adapt to your customers' needs – and why you should rely on automated processes to do so. Watch the on-demand stream here.
The trend toward multichannel messaging: Why it's revolutionary
"No matter where you look, more and more conversations are happening between customers and brands", explained Robin Adler, automation expert at Ultimate. And it's not just happening via email, phone or the chat widget on the homepage anymore: While volumes are rising moderately on all channels, there is one clear high flyer: Whatsapp. Between 2020 and -21, support requests via the social messaging service increased by a whopping 370%. 
A multichannel strategy, the ability to meet customers on the channels they prefer, is a new and important way to create positive customer experiences, both for reactive problem solving and proactive brand building.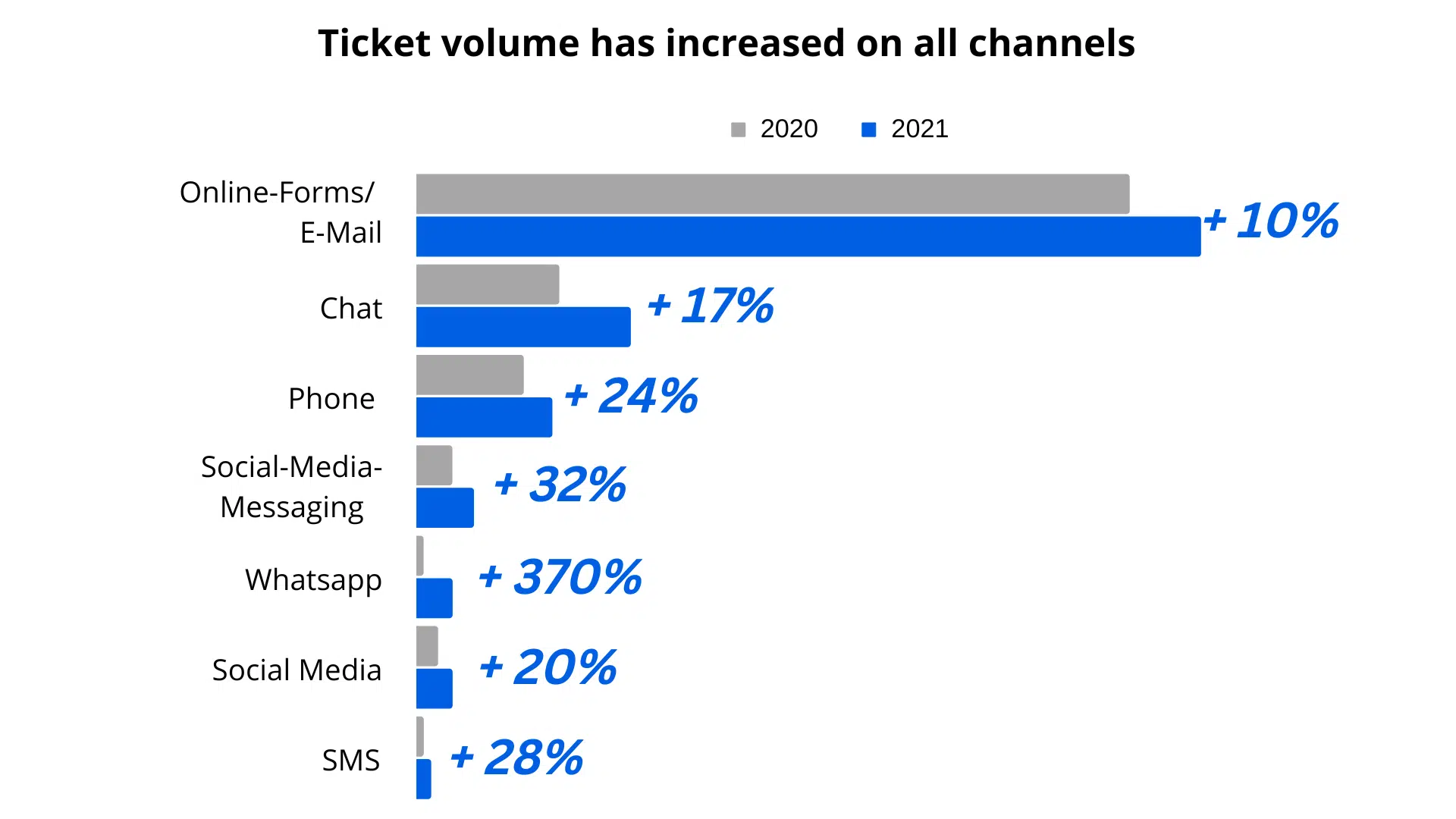 Asynchronous messaging: Following the rhythm of customers
What else do these "new" channels have in common? They function asynchronously. Gone are the days when we have to wait on hold between work and shopping, preferably before 6 p.m.: Thanks to Whatsapp or Facebook Messenger, we can start a conversation in the morning and then continue it when it suits us best: After work, during the lunch break, between meetings – or during the meeting.
A multichannel support strategy: easier said than done
While many brands are aware that multichannel messaging is what their customers want, implementation is usually the first thing to falter. Many communication options also mean that more conversations are possible overall, that a customer tries to reach a company via different channels, and that there is an expectation to always be advised beyond opening hours.

This can cause a number of problems for support teams:
There is no single view of customers and therefore

no single customer experience

Different channels require

different forms of communication

, especially with multiple brands

Higher costs due to longer processing times

and unnecessary repetitive loops

Customers are frustrated when they have to repeat themselves constantly, which

reduces their loyalty
Agents are overworked

, which decreases their productivity
The solution: automation with AI
Customer support automation was made precisely to handle a sudden surge in customer requests on a sustained basis. For example, Ultimate's automation platform helped Finnair airline cope with an massive amount of flight cancellations in the first wave of the Covid pandemic.
Automated responses can be sent around the clock, even error-free in any common language thanks to AI. But not just that – administrative tasks can also be processed faster: This includes sorting inquiries by topic or automatically generating reports and customer overviews.

So-called "headless" automation platforms, of which Ultimate is one, can be easily integrated with any popular CRM software to create a unified overview, or "single view" of each customer. This also works seamlessly with Zendesk and Sunshine Conversations.
Customers do not have to keep repeating themselves, their

requests are systematically recorded
No need to hire additional agents

to handle increases in support volume through additional communication channels

Resolution time is shortened

The current team can do better quality work, because they are

no longer held back by administrative tasks
Communicate more effectively across all channels with Ultimate, Zendesk, and Leafworks
To show how this can work in practice, solution consultants James Longbotham (Ultimate) and Malte Lensch (Leafworks) demonstrated Ultimate's automation platform and showed step-by-step how it can be used to provide more efficient, automated support across all channels using Zendesk Sunshine Conversations integration. 
They illustrated it with an example:
An eCommerce company would like to provide its customer service around the clock. With the help of a chatbot, also called a virtual agent, and a so-called backend integration, customer queries can not only be understood, but also answered automatically: Through backend integration, the virtual agent can communicate with other company software – for example, shipping software. It can automatically retrieve the relevant info from that software, then inform customers directly in the chat widget about the status of their order. This process is called end-to-end automation and requires zero intervention from non-virtual support agents.
But automation can also help for inquiries where communication with a human should be explicitly maintained. For example, a virtual agent can capture key data (customer number, order date) in advance and generate an automatic report for submission to the responsible agent. 
"You can automate everything, the question is what you want to automate," explained Malte Lensch, "because for some requests it's already worth it if agents have more time to deal with their customers individually – and don't waste precious time beforehand by having to manually search for and type in customer numbers, for example.
Overall, an AI-driven platform can partially or fully automate about 60% of all inquiries.
Best of all, a no-code automation platform can be deployed in a matter of weeks. By using AI to identify which requests are expected to be the most frequent (for example, with Ultimate's Automation Explorer tool), you can prioritize them for automation and immediately increase the efficiency of your customer support team. With Ultimate, this can be done in less than 3 weeks – our customer expondo even did it in 5 days!