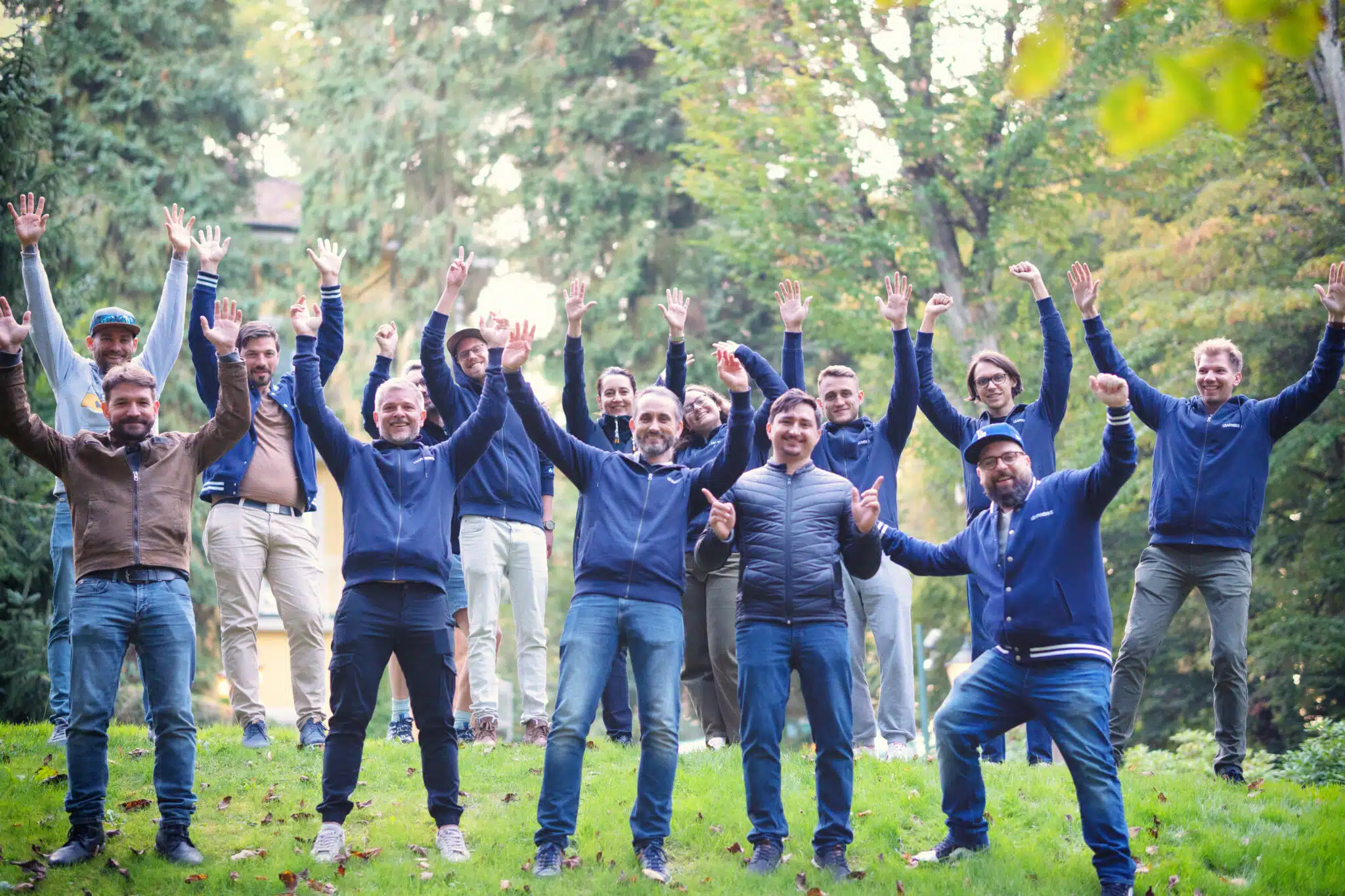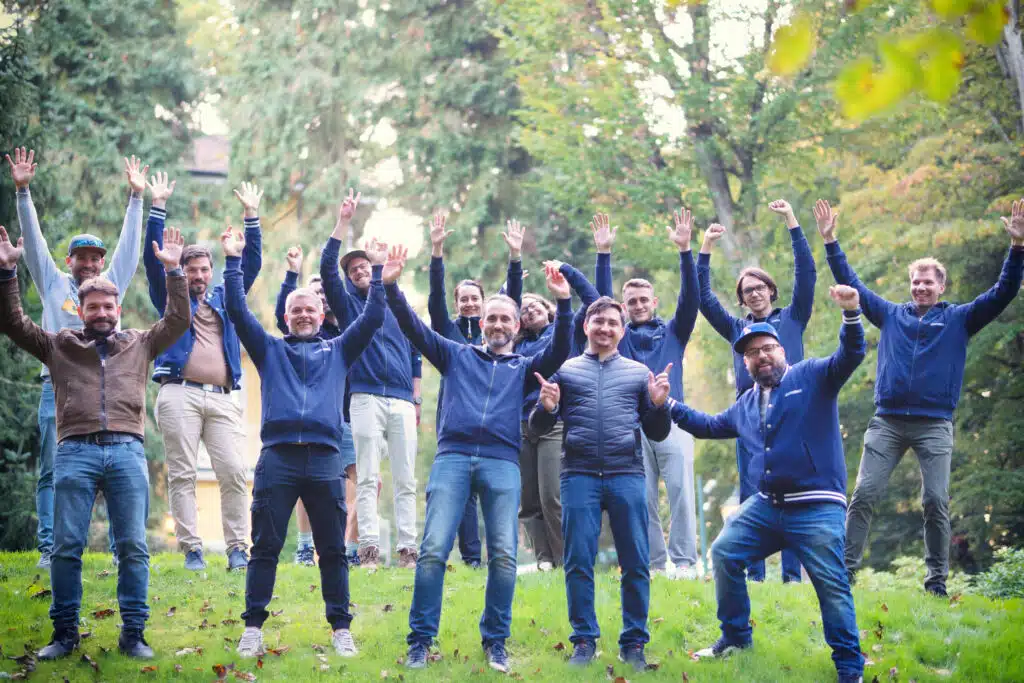 Thursday, October 7th, 2021. A special day for Leafworks. For the first time, our team was able to meet in such a large group for a joint event. Since we all work 100% remotely, it was the first time for many to see their colleagues in person and not just on the computer screen. The anticipation was correspondingly great. All vaccinated, recovered or tested, of course.
Since the company was founded in 2017, the team has grown steadily. Already 16 employees traveled to this year's event. Unfortunately, some could not be there for personal reasons. Of course, we would have loved to have all of them there. You can read about how the meeting went in the following article:
Day 1: Thursday – Arrival
2 p.m. was the target for the arrival. So the 'Leafworkers' set off to (partly already during the night). All of them on time, but of course a bit exhausted from the trip, arrived at the 'Relais & Châteaux Villa Hammerschmiede' near Karlsruhe. One might think that the greetings at the first personal meeting are a bit restrained at first…but not at Leafworks apparently :D. Everyone was greeted warmly, hugged and there were lots of smiling faces. It was actually like meeting old friends who hadn't seen each other for a long time.
Then there was some time to relax. In the rooms, "Leafworks Goodie Bags" were already waiting for the staff as a surprise welcome gift. Highlights: A super cozy Leafworks hoodie to keep warm while working in the remote office and a big coffee cup to stay awake in the remote office. Afterwards, it was time for the first official part on the agenda: dinner at the hotel restaurant. After the welcoming words of our managing directors Georg and Robert, we had a great meal and the first drinks. Next destination: the hotel bar. At this point already many thanks and greetings to our bartender Marc, who had to endure us for a long time every night and was certainly glad to get rid of us on Sunday. Sorry Marc :D. Since it was foreseeable at some point that probably few would make it to bed before the early morning hours, the official start for the next day was postponed from 8 to 10 o'clock. Thanks for that! 🙂
Day 2: Friday – Work and Social-Studies
To be honest not everyone looked like flourishing life the next day. You just don't get any younger. But the fun of the evening before was worth it to bite through the next day.

As the opening of that day, everyone had the chance to see the "Leafworks History" of the last 4 years in a 5-minute intro video, including key figures and important past events. Next up was: "The Leafworks Show". In three groups, the task was to develop a show for the rest of the colleagues. Music quizzes, picture quizzes or 'random fact questions' about colleagues offered plenty of reasons for laughs and the opportunity to get to know each other a little better.
After that, the more serious part of the day began. If you are a remote company and have the chance to meet in person, it makes sense to use the "concentrated power" of the team. In rotating small groups (World Cafe), challenges and also problems were identified, discussed and solution approaches developed for various company areas. The results were then presented and evaluated. Extremely cool results were achieved in a very short time. After this constructive session, there was still some time to take a break before we went on to dinner together. 'Casual fine dining' at Kesselhaus3 was on the agenda. As a thank you for all the hard and successful work, the "Leafworkers" really deserved something special. The delicious 4-course menu required a lot of translation for the non-German speaking colleagues and to be honest: Some of us had to google first before we knew what exactly we were going to be served: D. However, we couldn't take too much time after eating. We had to be back at the hotel bar in time to justify a longer opening time with an appropriate number of orders. As expected, this evening also ended late, but with lots of great conversations and smiling faces. At this point again: Sorry Marc !!! : D – however, that was important for the team because it was a great place to get to know each other.
Day 3: Saturday – Leafworks makes the dream work…s
With wise foresight, there was some free time on Saturday morning. This was either used simply to relax in the hotel's own wellness area, for short walks, sightseeing, or even for work. The first official part of the day was the joint lunch at 1 p.m. Getting some energy was also necessary, because of a four-hour team building session which followed at 2 p.m. Three tasks were to be solved as a team that could only be achieved with the help of communication, cooperation, skill, a bit of brainpower and, of course, mainly teamwork. It was a challenge, but no problem to solve the tasks for the best team in the world  (but sometimes just before the end of the time limit) ;). 
The highlight of the team building was, according to unanimous opinion, the last task, namely: bomb defusing. Four dummy bombs (but with real cartridges) in large garbage cans without lids were set up in the hotel garden. Around them an area with a radius of about 2 meters was cordoned off. This area was not allowed to be entered. So no chance to look inside. The task was to defuse these "bombs". As aids there was a box with mirrors, ropes, hooks, wire, tape and a few other things. Man if that didn't trigger the little McGyver in all of us. We got to work, trying things in groups and using best practices to solve the problem. In the end, we managed to defuse two out of four bombs, which (according to the game leaders at EXEO) was quite an accomplishment. At this point, many thanks for the fun and professional execution to the colleagues from EXEO!
After the play instinct was satisfied it was time to take care of the hunger. After freshening up  we went to the "hubRaum" in Durlach. This time a la carté, but no less tasty than the day before. Because we wanted to give our hotel bartender a break, we stayed there a little longer and allowed Marc his well-deserved evening off. Nevertheless, we had taken precautions and ordered a few drinks for our return. They were waiting for us in the pompous fireplace room of the hotel. Not too bad either. The past few days had left their mark and so it was a bit more civilized on the last evening and everyone went to bed a little earlier.
Day 4:
Sunday – Thanks for the nice days, gladly again soon, departure
On Sunday it was time to pack our bags and head home. The farewell was even warmer than the welcome. We already knew that we were a great team and that we got along well. But these days brought us all closer together and showed us once again why we love working at Leafworks!
Thank you to our BMFs (Best Managing-Directors Forever 😉 ) Georg and Robert who made this great event possible.
Special thanks to Julia, who planned this event and gave us unforgettable days!
And of course to everyone who was there and of course to those from the team who unfortunately couldn't be there. You're da BOMB :).
And last but not least: Thank you and sorry Marc!!!