About 50% of all support requests still come in over the phone today. This means that telephone support is still one of the most important channels in customer service. Are you one of the companies that do not record proper documentation and statistics of calls? Then you have to start now! Read the following article to learn how Leafworks telephony middleware can help you create more transparency, reduce manual effort and make your telephone support measurable and more efficient.
Your Goal
A modern omni-channel support solution includes the central documentation of inquiries across all channels. If you do not sufficiently collect and evaluate call statistics, you will lose important information. For example, you cannot see how many calls you have received on a particular topic and where there is potential for improvement in this regard.
The only requirement for recording and evaluating this data in the future is the availability of a telephone system, either in the cloud or on-premise. By connecting Zendesk with the help of the Leafworks telephony middleware, we help you to make your telephone support measurable and more efficient. By implementing omni-channel support with automatic recording and documentation of calls, you create greater transparency for your agents. Manual effort is reduced because the middleware automatically collects relevant information (e.g. name, address, order numbers, etc.) and independently creates telephone tickets.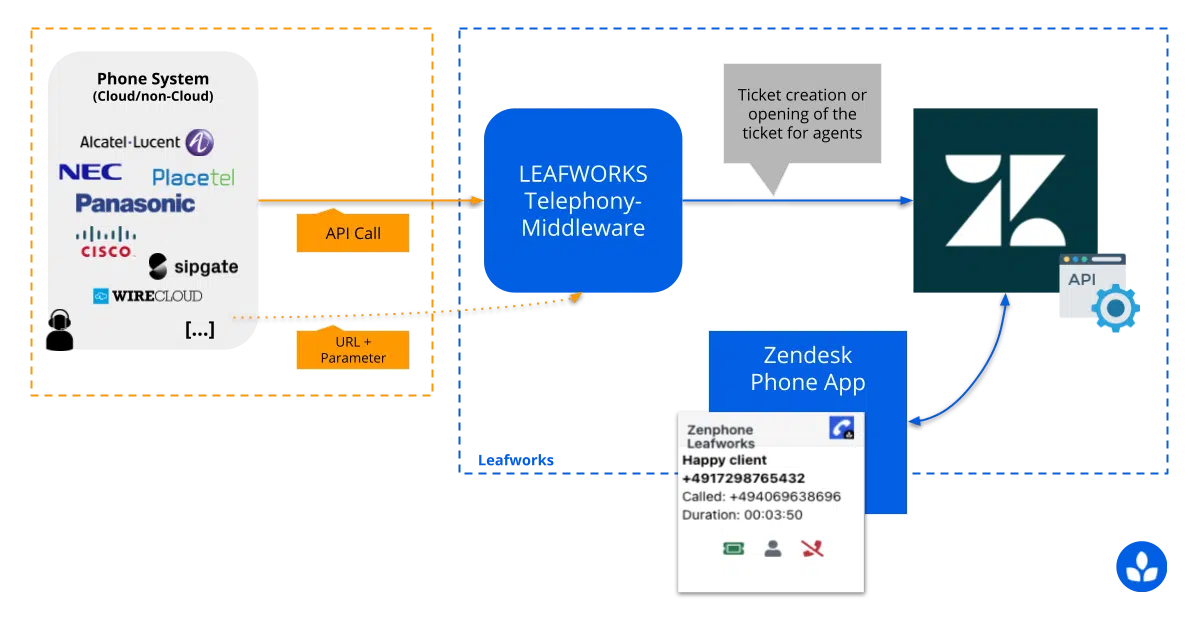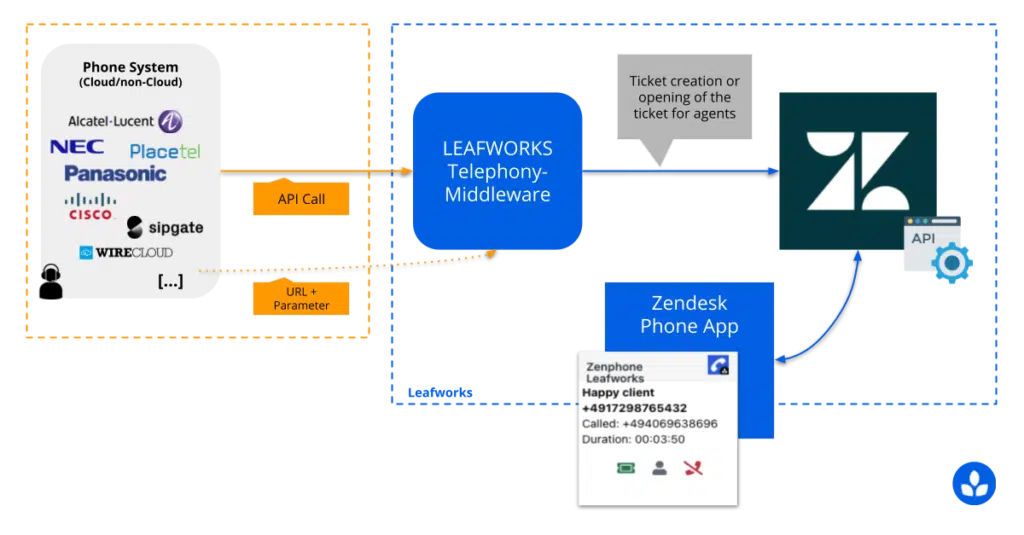 Use Cases
We distinguish between two variants for integrating the telephony middleware: On-premise and cloud.
On-Premise
On-premise solutions are based on the use of generic endpoints. This solution is suitable for connecting traditional telephony and bandwidth services. The telephone system must be able to transfer call events to the middleware via API or URL.
Cloud
The cloud solution uses an integrated call-notify function (webhook), which can automatically transfer call events to an external service via API. This is ideal for connecting existing cloud telephone systems. Mapping is performed by the middleware for each service.
Ihr Nutzen
Saves your agents time by creating tickets automatically = Satisfied agents through automation
More information at the time of the call = Simplifies work of agents
Notes can be documented directly in a ticket
Classification of telephone calls = statistics/reporting for evaluation and development of improvement potentials
Learn more about our Zendesk integration solutions here.
Read about how to build a customer-centric organization here.