Do you use both Zendesk and Microsoft Dynamics CRM in customer service? Would you like to show your customer service agents content from CRM so they can better serve customers?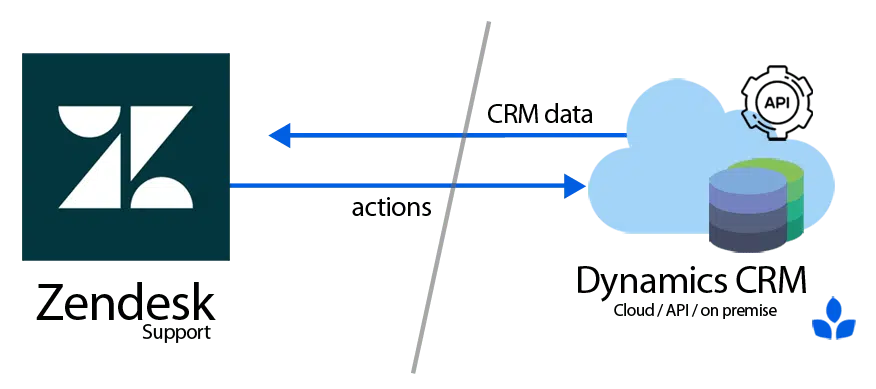 Mapping of information between Zendesk and Microsoft Dynamics
So how do you find the right data set in Microsoft Dynamics CRM?
Typically, you know either the email address or phone number of a customer who opens a ticket in Zendesk.
If a ticket is received by phone, our Dynamics integration will automatically search Dynamics CRM for this phone number and display matching results if exactly one match can be found.
If a ticket is received by email, this email address is used to search for matching data records in MS Dynamics CRM. In case of a match, the data record will be displayed directly.
If several records match these criteria (e.g. email address or phone number), a list of matches is displayed, which can then be linked to the ticket by the agent.
If no records can be found in CRM, a search mask is displayed (e.g. first name, last name, email, phone, address, etc.).
… in all these cases, after a successful link, the CRM ID is linked in Zendesk so that future tickets of the same requester can be found automatically.
Cloud or On Premise?
If you are using MS Dynamics CRM in the cloud, it is possible to implement a direct connection on Zendesk side to MS Dynamics CRM.
If you run your CRM on premise or no APIs are available outside your network, we can provide a separate middleware that fetches the data directly from the MS SQL Server and makes it available to Zendesk.
Procedure
So how can we help you exactly?
Get in touch with us
Together we define which data from your CRM you need in Zendesk
We are happy to clarify directly with your CRM service provider or your IT team how the connection can be realized technically (authentication, on premise/cloud, …).
We create a solution outline including effort estimation and mockups of the Zendesk App